CarlJr and Pac playing for Solary are the first ever TMGL champions played in a duo format. They beat Team BDS in the Grand Final.
Solary was unbeatable this week and they logically are your new Trackmania Grand League champions! CarlJr and Pac played at a stratospheric level in the Grand Final, winning every single track against Team BDS (Aurel-Affi). The Swiss organization had a rough day being unable to match Solary's pace. Proof of this obvious domination: Solary inflicted a 12-0 with 4 consecutive aces on Back'N'Forth which was historically one of the strongest tracks for Team BDS.
Solary takes away the first Trackmania Grand League 2023 crown, BDS finishes this season at the 2nd place while Gamers First (Binkss-Gwen) completes the podium. G1 beat Karmine Corp (bren-Otaaaq) with a clean 3-0/3-0 but the American team fell against Solary (0-3/2-3) despite an incredible comeback in the second series.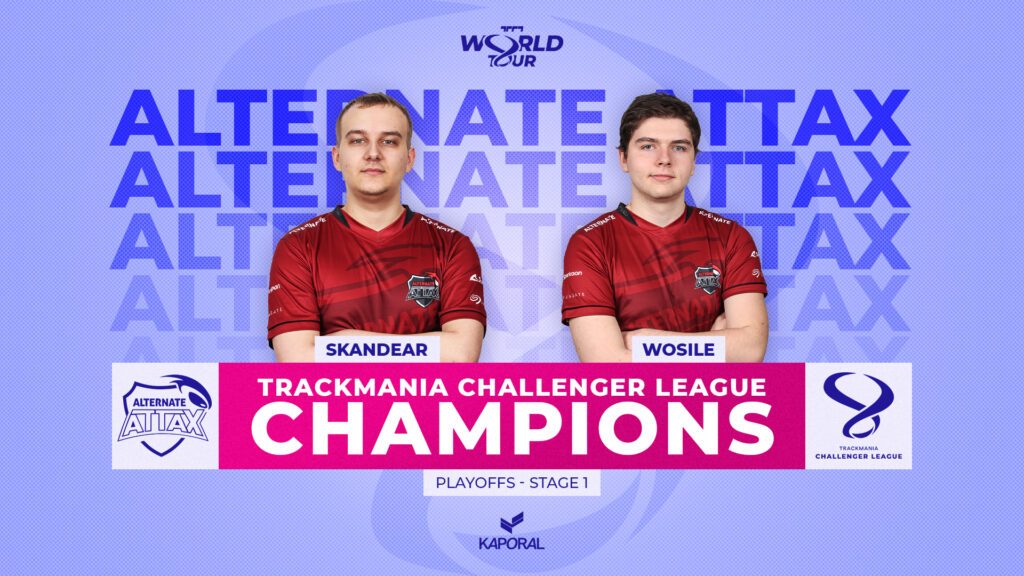 In the Trackmania Challenger League, the first stage of the year has been won by Alternate aTTaX (Skandear-Wosile). They managed to beat Sprout (DexteR-Scrapie) again in the Grand Final. Homyno Tsun (Ener-Feed) finishes at the 3rd position after a new win against Schweineaim Racing.
The 8 Grand League teams, as well as the top 4 TMCL organizations and the best regional teams will be back on track in a month with the All Stars Championship that will take place on April 16-22-23 to conclude the Trackmania World Tour Stage 1.
TMWT Stage 1 is not over yet with the Promotion and Relegation event happening next weekend (March 25-26) that will decide which team will qualify for the upcoming TMCL Stage 2! Current Stage 1 matchmaking will end on April 1st to grab some World Tour points.
We would like to thank Kaporal for their trust and their support. Our partnership will continue for the rest of 2023 to make this year a wonderful esports year for Trackmania!