Trackmania Grand League/Challenger League regular seasons are over and playoffs will take place on the two following weekends. Here is everything you need to know about the two most important weeks of Stage 1!
8 teams took part in the Trackmania Grand League 2023 Stage 1, but only 6 are still in contention to become the TMGL 2023 Stage 1 Champion! After 7 intense play days, Team BDS (Affi-Aurel) won the regular season with an incredible 6-1 win/loss ratio.
This regular season win allows the Swiss organization to directly join the Upper Bracket Final alongside Solary (CarlJr-Pac) who finished 2nd. The winner will be qualified for the Grand Final, while the loser will have another chance to access it, playing against the best one of the 4 other teams (Karmine Corp, Gamers First, Into The Breach and Alliance).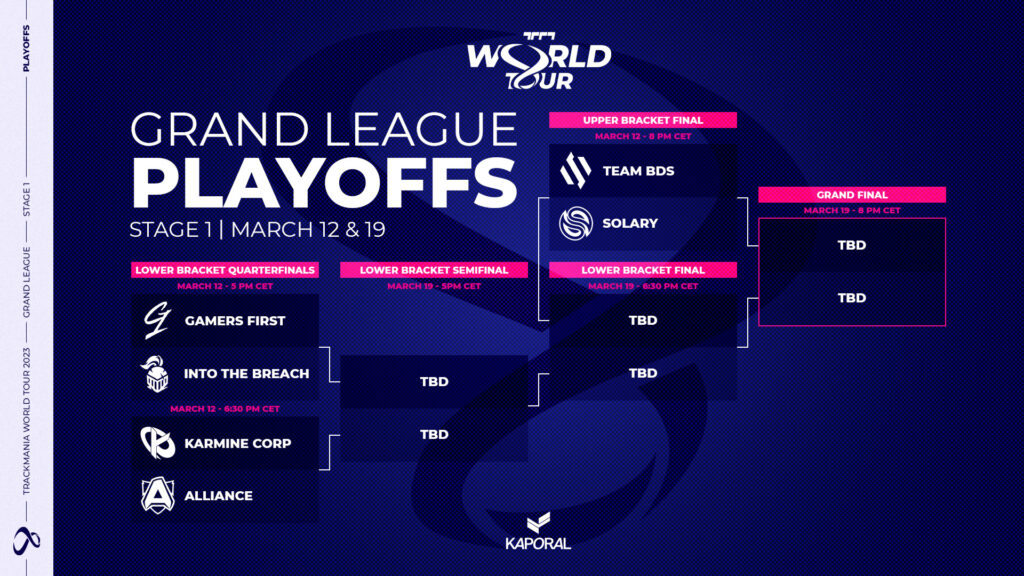 Thanks to their regular season results, BDS and Solary already have two chances to qualify for the Grand Final. This will be your Match Of The Week, and we all remember how close SLY-BDS was in Playday 2, with a final win for BDS (4-3).
In the lower bracket, Karmine Corp (bren-Otaaaq) will face Alliance (Mudda-Soulja) while Gamers First (Binkss-Gwen) will meet Into The Breach (eLconn-mime). All 4 teams have no room for mistake and must win 3 games in a row to join the Grand Final.
The first 3 matches will be played this Sunday March 12th and the 3 last games of the season will take place on the following Sunday (March 19th). All games will be broadcasted by the teams' streams as well as the English global cast held by Wirtual & Jnic.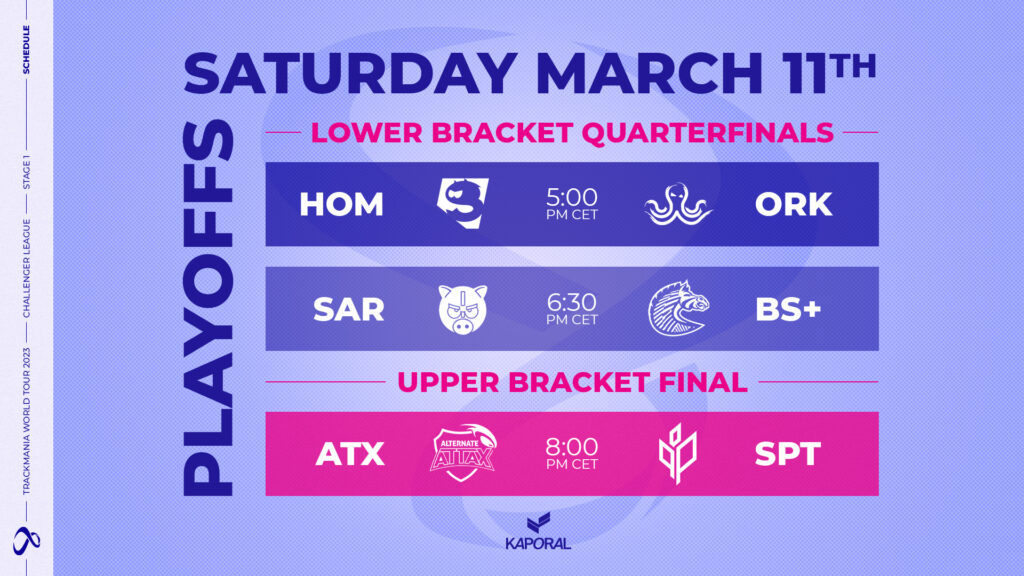 Trackmania Challenger League playoffs will be played with the exact same format as the Grand League on Saturday March 11th and 18th. ALTERNATE aTTaX (SkandeaR-Wosile) and Sprout (DexteR-Scrapie) are directly qualified for the Upper Bracket Final thanks to their 6-1 win/loss ration in the Regular Season.

In the lower bracket, Homyno Tsun will face OrksGP Numelops while Schweineaim Racing will play against BS+COMPETITION!
Exalty (7th in the regular Season) and IziDream (8th) will play the Promotion/Relegation against 14 teams from the Regional tournaments – 8 from Europe, 2 from Asia-Pacific, 2 From Middle-East & Africa, 2 from the Americas. The two best teams from this tournament (March 25th-26th) will be qualified for TMCL 2023 Stage 2!