Trackmania World Tour 2023 has officially kicked off with a Grand League super weekend, two play days having being scheduled Saturday January 21st and Sunday the 22nd. The very first regional tournaments also took place for Middle East & Africa (MEA) and North Central South America (NCSA), we will come back to them a bit further.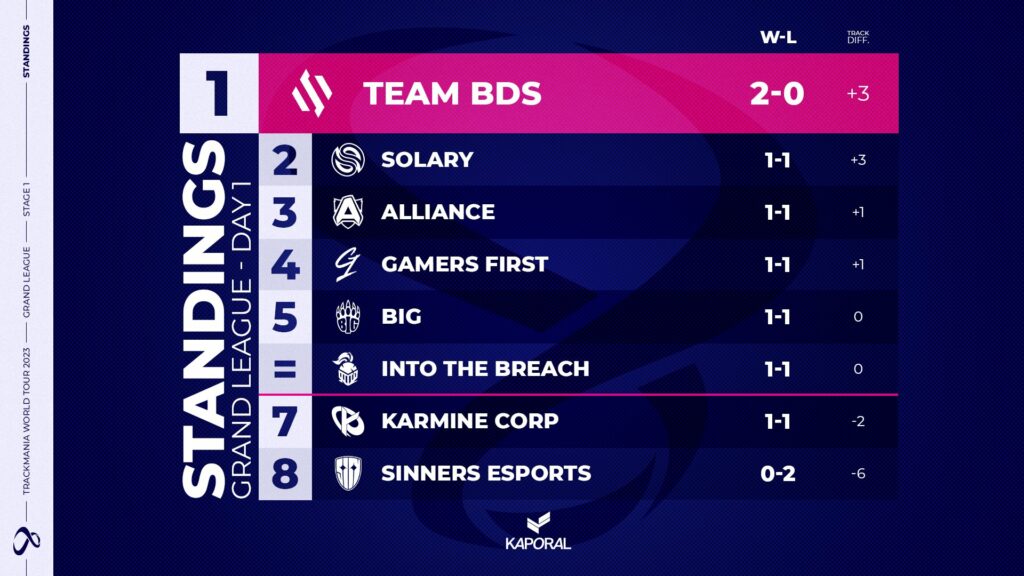 After two TMGL play days, Team BDS (Affi-Aurel) takes the lead, being the only team to have won both their games. The Swiss organization faced Into The Breach (eLconn-mime) for the season opener and were able to win 4-2 over ITB after losing the first two tracks. The next day, Affi & Aurel succeeded to beat the Solary dream team (CarlJr-Pac) in a very close and intense match (BDS 4-3 SLY).
Solary is currently second in the standings, thanks to a 4-0 win against BIG (Massa-GranaDy), but 6 of the 8 teams both won and lost a match: Solary, Alliance, Gamers First, BIG, Into The Breach and Karmine Corp. They are ranked by their map win-loss ratio. SINNERS closes the standing with two defeats in a row against Karmine Corp and BIG.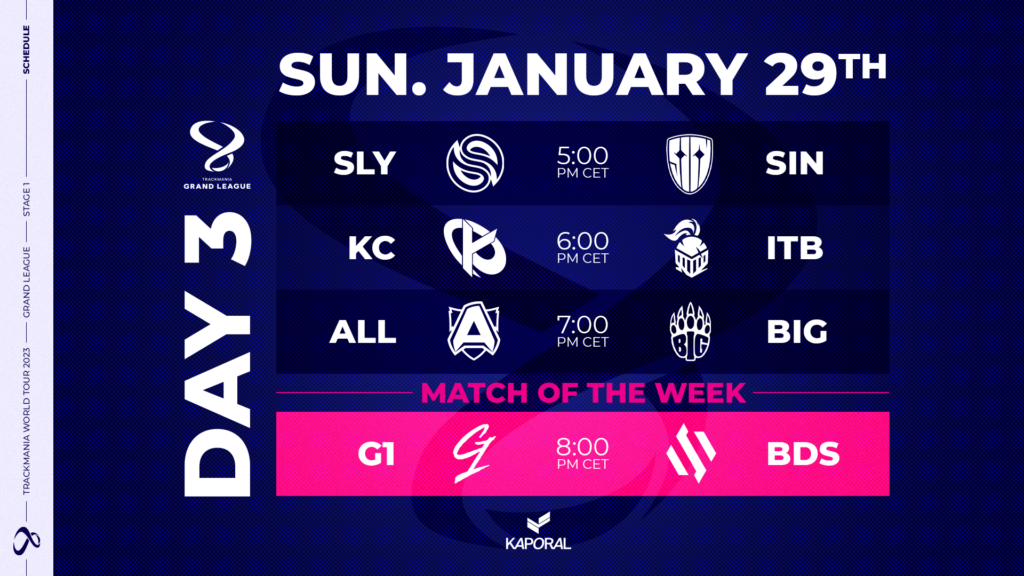 The Czech organization will face Solary next week with hopes of getting back on track after a difficult start. All eyes will be on Team BDS who will face G1 (Binkss-Gwen). It will be your match of the week, starting around 8 PM CET. On their side KC-ITB and ALL-BIG will be looking to shake things up as they all have a 1:1 win/loss ratio.
Regional tournaments have started!
This weekend was also the regional tournaments kick-off for both MiddleEast & Africa and North Central South America regions. The MEA tournament was absolutely dominated by the F10 (Cemko-Birdie) team which only lost a single track in their three matches. On the other side of the planet, Damascus Gaming (Neal-Nixotica) also won all of their games, but the Grand Final was an epic one against 100% CANADIAN, with a 4-3 final score.
Asia-Pacific and Europe regional tournaments will take place next week, it's still time to register your team! Also coming next week, the Challenger League kick-off and TMGL playday 3!